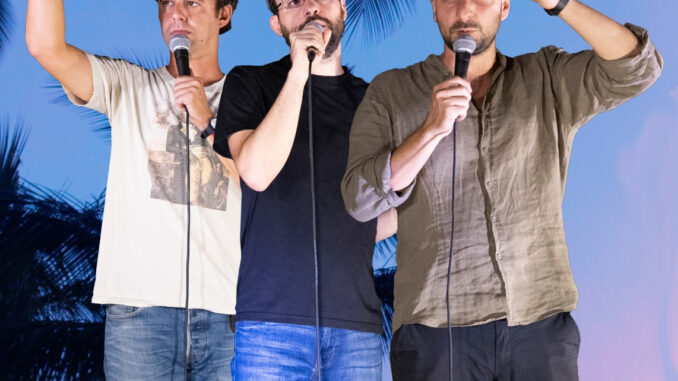 Domenica 7 agosto, alle 21, Zo Centro culture contemporanee di Catania, The Comedy Club e Rocketta presentano Summertrip 2022, spettacolo di Stand Up Comedy con Luca Ravenna, Stefano Rapone e Daniele Tinti.
Il milanese Luca Ravenna, romano d'adozione, è diplomato al Centro sperimentale di cinematografia. Ha collaborato con il collettivo romano The Pills. Autore della webserie di Repubblica.it "Non c'è problema" è stato autore di "Quelli che il calcio" su Rai2. Ha partecipato a "Natural Born Comedians" e "Stand up Comedy" su Comedy Central. Con Edoardo Ferrario crea e conduce il podcast "Cachemire", ogni settimana su YouTube e al primo posto su Spotify Italia. Il suo nuovo live tour "568" ha già registrato sold out in tutta Italia.
Stefano Rapone nasce a Roma nel 1986. Ha collaborato come autore con il Trio Medusa. Ha partecipato ai programmi tv "Battute?" su Rai 2, "Mai Dire Talk" con la Gialappa's Band su Italia1, "Natural Born Comedians", "Stand Up Comedy" e "CCN – Comedy Central News" su Comedy Central (Sky) e "Una Pezza di Lundini" su Rai2. Si distingue per una comicità monotono che si scontra invece con la violenza delle critiche che il comico rivolge verso sé stesso e verso il mondo. Scrive e disegna fumetti quali "Marco Travaglio Zombi" e "Natale a Gotham". Il suo sogno: vivere come vivono i ricchi.
Daniele Tinti nasce a Roma nel 1990 ma si trasferisce prestissimo a l'Aquila, dove rimane per 18 anni, per poi tornare nella capitale. Partecipa a diversi programmi comici come "Natural Born Comedians" e "Stand Up Comedy" su Comedy Central e "Battute?" su Rai2. Il suo podcast "Tintoria" su Youtube e Twitch è tra i più seguiti dagli appassionati di Stand Up: insieme a Stefano Rapone, intervista i nomi più interessanti della scena comica e musicale italiana. Nel 2020 partecipa al tour estivo "SummerTrip" esibendosi con Luca Ravenna e Stefano Rapone in varie città d'Italia. Nel 2021 il suo special viene distribuito da Amazon Prime Video all'interno della serie "Italian Stand Up".
Biglietti
€ 20⁠. Prevendita su https://bit.ly/Summertrip0708CT
Zō Centro culture Contemporanee, piazzale Rocco Chinnici 6 – Catania